On Monday, the Presidents of Ghana, Niger, Senegal, Togo, and Chad praised Aliko Dangote, Chairman of the Dangote Group, for the development of the Dangote Petroleum Refinery and Petrochemical Plant.
The leaders, who were present at the inauguration of the 650,000-bpd refinery in the Lekki district of Lagos State, said the refinery, which is one of the largest in the world, will make Africa better and stronger.
"This spectacular project, the Dangote Refinery and Petrochemical Complex, makes West Africa better and stronger. And I congratulate this distinguished patriotic son of Africa for the sheer brilliance of this initiative," said Ghana's President Nana Akufo-Addo.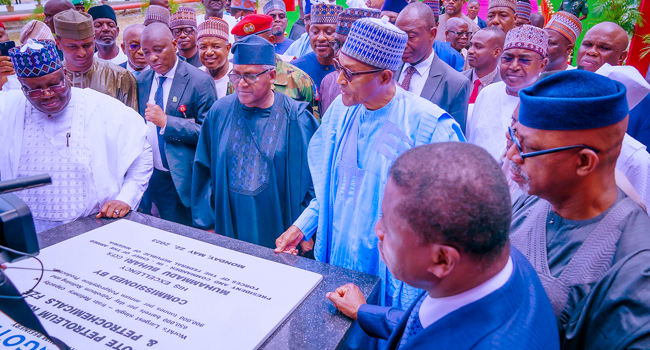 The Dangote refinery project, according to Senegal's President Macky Sall, who also spoke on behalf of Togo's President Faure Gnassingbe, will increase access to power for Africans, many of whom still do not have it.
"This great investment will inspire respect and admiration here in Nigeria, the most populous country on our continent. The Dangote Group is certainly helping to reduce the challenge of universal access to electricity and give opportunity to industrialise our continent," Sall said.
Mohamed Bazoum, President of Niger Republic, echoed what his colleagues said, congratulating Dangote for the initiative.
President Buhari also spoke, describing the Dangote Petrochemical Refinery and Petrochemicals as a game changer and a watershed moment for Nigeria's economy.
He said that it would allow the country to achieve self-sufficiency in refined products as well as a surplus for export.
"This clearly makes this event a notable milestone for our economy and a game changer for the downstream petroleum product market not only in Nigeria but the entire African continent," he said.
Among other refined products, the project is anticipated to generate Premium Motor Spirit (petrol), Automotive Gas Oil (diesel), aviation jet fuel, and Dual-Purpose Kerosene (DPK).