Nothing compares to the force of a pressure washer when it comes to those difficult cleaning tasks around the house. With the push of a button, this practical tool will quickly and easily remove dirt, grime, and difficult stains. Not to mention that you will avoid doing any manual labor!
While a pressure washer can handle even the most difficult household tasks, there are several things you should never clean with one. If you proceed in this manner, you run the risk of scratching or ruining surfaces and doing more harm than good. In the worst-case scenario, if you misuse that pressure washer, you might hurt yourself!
Typically, a pressure washer blasts dirt, moss, lichens, algae, and even gum from hard surfaces with a highly pressurized water jet. If you want to give your garden a facelift this season, these are especially great for cleaning patios, decking, driveways, and stone tiles pristine.
Therefore, avoid these nine things you should never clean with a pressure washer before using it to accomplish your challenging duties.
1. Electric Meter
Never use a pressure washer to clean electric meters. Electric meters often feature a transparent glass or plastic cover over the meter's face and a strong metal enclosure.
However, the washer's high pressure can push water into the plastic cover's cracks, which could harm the interior electrical system. This may not only have an impact on the electricity coming in, but it may also result in costly repairs for you. To clean the lid of your electric meter, just use a damp, soapy cloth to wipe it down.
2. Air conditioners 
Avoid using a power washer when cleaning your air conditioner if you want to keep it in good condition. The power of the spray may bend or crush the delicate metal fins that control the airflow into the unit, even if it would quickly remove dirt and filth from the outside of the box.
A soft brush should be used to remove any dirt or debris from in between the fins, and any filth should be carefully washed away using a garden hose. Check out our guides on how to clean an air conditioner and what to look for when purchasing an air conditioner for more helpful hints. 
3. Brickwork
This could come as a surprise, especially if your brick siding is filthy, but you should never use a pressure washer to clean bricks.
This is due to the fact that brick is a porous substance that readily absorbs water. It will expand when it absorbs too much moisture, then constrict when it dries, leaving fissures in the brickwork.
Additionally, the mortar holding the bricks together may become brittle due to the high-pressure spray. You'll have an unstable and dangerous construction in addition to being prone to severe weather damage. A falling wall on your property is the very last thing you want.
Instead, to remove stains from organic growth, clean brickwork with a mix of bleach and soapy water or use a specialized cleaner like the Outdoor Cleaner.
4. Gutters
Clearing the gutters is not a simple (or enjoyable) task. And although though it can be tempting to use a power washer to swiftly clear the dead leaves and other material clogging the gutters, never do so.
The mortar that supports the gutters can be washed away by a pressure washer, since it is far too powerful. Furthermore, pressure cleaning might seriously harm the downspout or perhaps entirely take the gutter off the home.
Fortunately, it is possible to learn how to clean gutters both with and without a ladder by simply picking up the trash by hand and rinsing the interior with a garden hose. Cleaning your gutters in this manner is considerably safer and can save you money and subsequent repair work.
5. Asphalt Shingle Roofs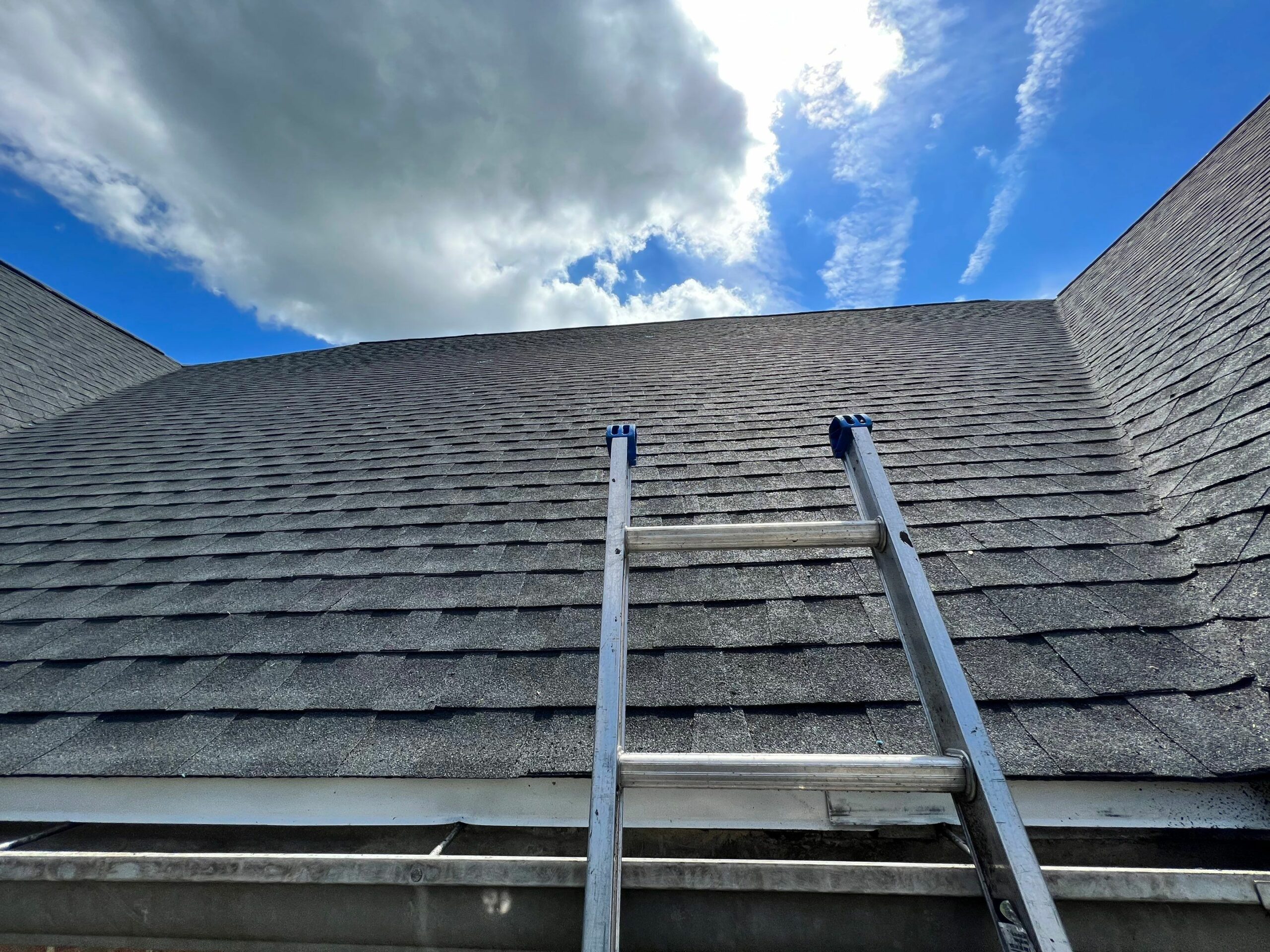 Even though we don't typically take care of our roof, dirty tiles are frequently apparent. However, if your roof is made of asphalt shingle tiles, never use a power washer to clean them. The high water pressure can also take away the granules holding your asphalt tiles in place, despite the fact that it would seem like the simplest approach to remove dirt and moss. If your roof is older, this could cause it to deteriorate, crack, or come free entirely. 
Additionally, this increases the risk of leaks, cracks, mold and mildew in your home, and more severe structural damage to your roof. In general, cleaning a roof by oneself can be hazardous without the proper safety measures. Therefore, it's always preferable to let a reputable roofing company do the work.
6. Painted Or Stained Surfaces
Never use a power washer to clean painted or stained surfaces, whether they are on a dirty wall, wood decking, or outdoor furniture. If you do, the strong spray will remove the paint or stain off surfaces, making them peel, chip, or otherwise appear unattractive.
Furthermore, power washing can destroy any protective coatings you may have used to cover painted surfaces, including waterproofing sealers and mildew-resistant coatings. It would be more prone to mold, warping, and water damage as a result.
Therefore, it's usually advisable to clean sensitive regions with soapy water or a specific stain remover if you don't want to damage damaged surfaces.
7. Light Fixtures
If you have solar or outdoor lights installed in your porch or lawn, they will eventually become dusty. Despite the fact that they are made to endure all types of weather, you cannot use a strong pressure washer to clean them.
Any glass panels or light bulbs in your lights will break under the intense blast of the jet spray. Additionally, this could entirely dislodge the fixture from its mount, harming your lovely lights. Additionally, you don't want any water to get inside and corrode the electrical components.
The lightbulb should be carefully taken out of the fixture and cleaned with a clean, wet microfiber towel for outdoor lights. After clearing the area around the fixture with an old paintbrush, clean it with a wet, soft cloth or sponge dipped in soapy water.
By doing so, you'll lower the danger of damage and maintain the greatest possible lighting in your home while also keeping your light fixtures clean and in great shape.
8. Cars
We all want our cars to look as spotless and brilliant as they did when they first rolled out of the showroom, but washing cars may take time. It's also strongly advised never to clean cars with a pressure washer, even though some pressure washers are suitable for cleaning them at low pressure.
A pressure washer's spray force can actually remove paint off of surfaces, leaving dents or chips behind. This is particularly true when there are modest variations in the spray's angle depending on how close the vehicle is to the spray source.
Any sustained damage might also result in expensive repairs due to rust or corrosion of the bodywork or possibly severe engine damage. It's easiest to wash by hand using a soft sponge or cloth soaked in soapy water, followed by a thorough hose rinse. You may also just drive your car to the car wash and spare yourself the trouble.
9. Windows
Windows can become very soiled, and while it can seem convenient to use a pressure washer to clean the glass, you should never do so. Fragile panes of glass will be damaged or even broken by the high-pressure jet spray because it is too strong for them.
Additionally, the force of the jet spray may harm the window seals, allowing leaks to enter and lead to moisture and possible mold problems. Additionally, if your window frames are older, faulty seals will cause them to distort or crack.
Window cleaning by hand with dish soap and water is always recommended, and white vinegar is excellent for removing limescale. After that, you can easily rinse away any dirt or debris by attaching a nozzle to a garden hose. This is a much safer choice, and it will save you a ton of money on new windows!